Wood Flooring: Crests/Medallions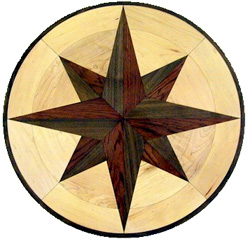 From magnificent medallions in foyers to marvelous crests in living rooms, the use of these custom hardwood designs make a big impact in formal spaces. Your home is an expression of your individuality, and contemporary design trends encourage one of a kind touches that make your home unique. Some areas of the home lend themselves to crest and medallions more than others. Locations most commonly enhanced by detail features are inside a foyer; as a centerpiece in the dining room and on a stairway landings.
The use of hardwood crests and medallions is a home improvement upgrade that is winning approval with interior designers, decorators and consumers. Crests and medallions are interior design elements that are installed as a focal point in the main field of the floor. Medallions can be fabricated using multiple wood species, and other mixed media, such as natural stone, polished metal or leather. Prefinished hardwood medallions can be bought directly from the manufacturer or supplier and easily routed into existing wood floors will negligible cleanup and mess. For more personalized looks, such as a family crest, a professional wood flooring installer should be consulted to select the best species and colors to meet your requirements.
Brand Overview
---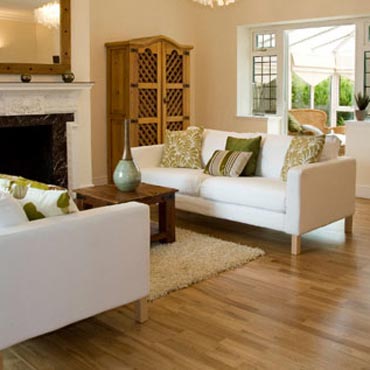 ---
Profile
|
Website
Real wood floors made of Maple, Oak, Beech, Elm, and Pecan should be as familiar to you as the countless city streets that are named after these trees. Their rich natural colors and hand-crafted quality is what we have come to expect in our homes. Now, Anderson has taken wood flooring technology to a place it has never gone before—with Best-in-Class durability.
---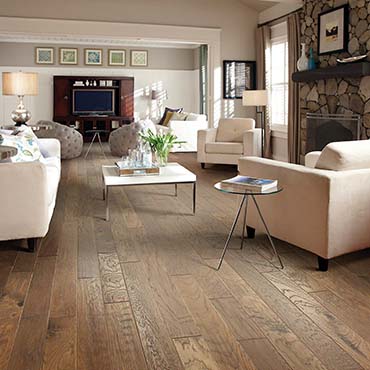 ---
Profile
|
Website
|
Warranty
|
Clean
|
Maintain
|
Green
Shaw Hardwood Flooring offers consumers the timeless tradition of hardwood flooring with a wide variety of species, colors, and sizes. Shaw hardwood flooring brings Beauty and Strength to Any Room. See our Collection of Wood Flooring Stains and Grains.